Team Biographies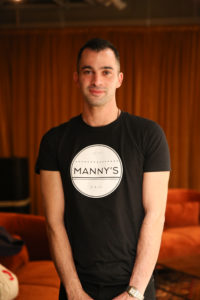 Manny Yekutiel
Owner, Manny's
President, VCMA
Manny Yekutiel is originally from Los Angeles and first moved to San Francisco in 2010, where he spent a summer raising money on street corners as a canvasser for Equality California. Manny has been a White House Intern in the Office of Public Engagement, a Thomas Watson Fellow studying the LGBT rights movements underway around the world, a field organizer in New Hampshire for President Barack Obama's re-election campaign, the chief of staff of FWD.us, an immigrant reform advocacy group, and was on the finance team for Hillary Clinton's 2016 Presidential campaign.
In December 2016 Manny decided to build a civic gathering space which combined a restaurant, bar, coffee shop, political bookstore, and civic events space. The purpose of the space is to create a physical place to go to become a better informed and more involved citizen. In its first year Manny's was awarded Small Business of the Year by the California State Senate and has been featured in the New York Times, the New Yorker, Rolling Stone magazine, and the San Francisco Chronicle. It has served over 55,000 cups of coffee and tea, hosted over 400 civic events for the community, including for over 100 local non-profits and advocacy groups, and has had 16 formerly homeless or incarcerated individuals graduated from the training kitchen run by Farming Hope who now have full time jobs.

Tyler MacNiven
Owner, West of Pecos
Vice President, VCMA
Tyler started working in his parents' restaurant, Buck's in Woodside, when he was 13. He's traveled the world making documentaries but has always come back to the restaurant business. Tyler and his brothers opened West of Pecos on Valencia in 2012, just two blocks from their home. The restaurant is an homage to their love for the southwest, particularly New Mexico, where they frequented on family road trips growing up.

Eileen Rinaldi
Founder, Ritual Coffee Roasters
Treasurer, VCMA
Eileen Rinaldi is the founder and owner of Ritual Coffee Roasters, a San Francisco-based coffee company with four retail coffee bars. Ritual at 1026 Valencia opened in 2005 and is responsible for putting San Francisco on the map for coffee. And as fanatical as she is about coffee, Eileen is just as passionate about small business.
Sarah Larson
Owner, Often Wander
Secretary, VCMA
Started in January 2012 after spending time abroad, Sarah came back to California inspired and ready to create. The first few years started slow; selling creations to friends, then at farmers markets and pop ups, with a small collection of candles, mala necklaces and other beaded jewelry in San Diego. In September 2018, after years of manifesting, her second brick and mortar store in The Mission District of San Francisco was born. It had always been a dream to have a store on the popular Valencia street in San Francisco, and she is so grateful to be here. She is proud to carry many locally made products from friends and other local talents as well as a beautiful eclectic collection of home decor, plants, art, crystals, and vintage finds. Often Wander prides themselves in being able to offer half priced refills to candle customers and host candle designing events at their shops. They pride themselves in their relationships with customers and supporting their local communities.
Avi Erlich
Owner, Silver Sprocket
Director, VCMA
Avi is a lifelong Bay Area resident with 10+ years living and working on Valencia St. They initially founded Silver Sprocket as a punk-rock record label, which has since transformed into a radical publisher of independent comic books and graphic novels, and local zine shop/gallery with a focus on local community and social justice. Aside from publishing, Avi enjoys bike riding, DIY haircuts, and making stir-fry with stream-of-thought found ingredients.
David White
Owner, Yellow Moto Pizzeria
Director, VCMA
David was born, raised and educated in Ireland where he completed his bachelor's degree at University College Dublin in the liberal arts before moving to San Francisco in 1997. He has been a mission resident for almost 20 years and a local business owner since 2008 when David co-founded the restaurant group behind flour + water, central kitchen & salumeria and trick dog bar, of which he remains a director. He turned his attention to a new company in 2018, founding flour + water pizzeria, which opened its first location on the Valencia Corridor in the summer of 2019. He and his wife Allison are proud to be raising their three girls in such a diverse and vibrant community. His focus at this time is the survival and renewed success of his industry, specifically independently owned small businesses. His priority is weaving social and racial equity into what he believes will be an industry renaissance as we exit the pandemic world. When he is not working or in the dad-life he loves to snowboard and surf, his happy places are the mountains and the ocean.
Ian James
Owner/Designer, Ian James
Director, VCMA
Ian is originally from SoCal, however he started working with leather in his Bronx apartment in 2013. It was a hobby business for many years as he bounced around to Miami, Sonoma, and finally San Francisco. Like many people, Ian lost his corporate job during the pandemic, decided to pursue his passion full-time, and opened his first brick and mortar location in 2021 in Bernal Heights. He then decided to move that location to Valencia Street in July 2022 where he is happy to be a neighbor to all of you!
Jonah Buffa
Owner, Fellow Barber
Director, VCMA
A long time SF resident and Bay Area native, Jonah started Fellow Barber in 2010 with his brother. He's lived on and off in the Mission, bartended at a number of bars in the neighborhood and played music, touring in a few bands. He's happy to be a part of the VCMA Board and serve the community and neighborhood.
Jorge Martinez Lillard
Owner, Lolo
Director, VCMA
While it's been a challenging time, Jorge has developed a newfound love to create new ways to keep the restaurant afloat and provide his staff with as much work as he can. After opening those two restaurants in Guadalajara, he decided to move back to San Francisco with his wife Lorena and his two kids, Emiliana and Pascual. They did so since they'd always dreamed of opening a restaurant in the city in which they were married. And 13 years ago, they opened the first Loló on 22nd St in the Mission District – and recently relocated after 6 years to 974 Valencia Street.
Karen Ruelas
Co-Owner, Sisters Coffee Shop
Director, VCMA
Born and raised in the Bay Area, Karen has always had a passion for coffee, the skills to manage and communicate with others effectively, and the goal to one day open a Coffee Shop. A year later after graduating from college, in the middle of 2021, she was given the chance to open a shop with her sister Melody, which is now called Sisters Coffee Shop. Starting a business from scratch in the middle of the pandemic was very rigorous but with the help of their family it has been a smoother process. Day by day, Karen accomplishes more of what her younger self wanted for the future. .
Kelly Kozak
Co-Owner, Bernal Cutlery
Director, VCMA
Kelly Kozak is a community cooking educator, food justice advocate, knife wielder and co-founder of Bernal Cutlery, Jewish food studies writer, and real-life magician's daughter. She recently finished her Food Studies graduate research on childhood poverty interventions with the Homeless Prenatal Program in San Francisco, where her focus was community-based food security programming benefiting our most vulnerable women and children. Currently, her full-time job, and then some, is raising 3 San Franciscans and running Bernal Cutlery with her husband and business partner, Josh Donald. .
Nikki DeWald
Owner, Blondie's Bar
Director, VCMA
Born and raised in San Francisco, Nikki is happy to be raising her son in the City she loves. At the age of 21, Nikki and her mom opened Blondie's on Valencia and 16th Street. Nikki has worked in her Mom's restaurants and cafes since the age of 8 years old and while service is practically embedded in her DNA, she does not necessarily subscribe to the "the patron is always right" ideology, but rather, backs her staff and makes sure that everyone at the bar is behaving and is respectful. In business since 1991, Nikki has witnessed many changes to the Valencia corridor, she's excited to see what's next for the neighborhood and to become more involved in the betterment of the community. Nikki loves the Mission and all that it offers and is inspired to work with the VCMA toward changes that would make it even better! .
Sara Deseran
Partner, Tacolicious
Director, VCMA
Sara is a partner and the Director of Marketing & Branding at Tacolicious, a small restaurant group that opened its second location in the Mission in 2012. Sara is a former magazine writer, editor and cookbook author (saradeseran.com). A long-time resident of SF, Sara lives in Bernal Heights with her teenage son and a couple clingy Siamese.
Sean P. Quigley
Founder, Paxton Gate
Director, VCMA
If Paxton Gate owner Sean Quigley had his way, it would be 1880. Hop on a horse, find land, stake a claim, build a house, pan for gold, and voilà. This might have something to do with growing up in a Northern CA town named Happy Valley. Though it sounds like a name dreamt up by an ad man working on Madison Avenue, it is a place where his family raised its own food and livestock, built barns and where kids were free to roam through woods for fun, literally miles from home.
He moved to the Bay in '89 and after graduating from SF State in '92 started his businesses, the original retail store and his design/build company, that same year. He spent the next 14 years working as a bartender at a number of Mission bars including Dr. Bombay's, Casa Nova and Kilowatt while patiently building his company which he moved to Valencia in 1999. In 2008 he opened his 3rd business, Paxton Gate's Curiosities for Kids.
If you ask Quigley, he'll say he was "strong-armed" into taking on the role of VCMA President in January 2012. In truth, founder Deena Davenport had dedicated over two years to the role and wanted to pass the torch to someone else. Seeing himself as more of a behind-the-scenes guy Quigley changed the organizational make-up of the VCMA and created the first board, distributing the duties previously held almost entirely by Davenport. Moving forward he endeavors to set up non-profit status for the organization, attain recognition city-wide for the VCMA's merchant members, secure more exposure for the corridor, and continue to support the VCMA and its mission.